Articles & Tutorials
Posted by Christina Edwards on
Count and clip cards are a fun and easy way to teach young children counting and number recognition skills. They typically consist of a set of cards featuring a number of illustrations on the top and three number options on the bottom. Small objects, such as clothespins or mini erasers, are placed onto one of the number options on the bottom of the card to indicate which one corresponds with the number of illustrations shown on the card. How to use count and clip cards: Prepare by choosing a set of cards with numbers that are appropriate for your child's skill level. (For example,...
Posted by Christina Edwards on
It all started with dyed rice. My daughter was almost two, and my youngest was just a wee little one. I was home on maternity leave and mindlessly scrolling on Instagram one morning when I saw a post with beautiful rainbow rice and a little toddler playing happily away. I picked up a bag of rice and food coloring that day which began our journey! For a few weeks, I focused on sensory bins and added different tools and containers. Then, the pandemic started. We were a bit bored, and my daughter was getting older, and I knew I wanted...
Posted by Christina Edwards on
Our reading box started with a need to make reading lessons a bit more hands on for my oldest (5 years old.) He wanted to learn how to read, loves books and showed a huge interest in doing so.  We are still new to homeschooling but hands on, play based, sensory rich learning has worked really well for us. Our reading box accompanied the readers we were using when we first started our reading journey.  Here are the resources that have worked well for us in our journey thus far: Nature Letter Cards Mushroom Editable Sight Word Cards included in the Mushroom Activity Pack Minimal Alphabet Flashcards...
Posted by Christina Edwards on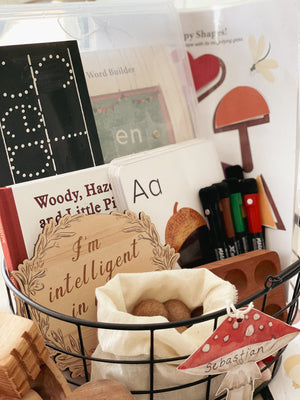 Have you always wanted to implement a morning menu and/or basket but couldn't figure out where to start? Morning menus and baskets have various purposes and don't necessarily need to be in the morning. These can be integrated when you feel it works best towards your rhythm. If you feel your kids focus better in the afternoon, set this up for an "afternoon menu" or "snack menu." If you send your kids to school, set this up for an "after school menu."  But what exactly do we use in our morning menus and baskets?   There are tons of resources...
Posted by Christina Edwards on
If you've seen these Three Part Card sets, but aren't sure how to use them with your kiddos, we're here to help! Three Part Cards are a resource that Montessori schools use to encourage language development. They are also called Nomenclature or Montessori classified cards.  We've used our Garden Three Part Cards here to show some examples. Each individual card set includes three parts:       These cards are versatile and can help to keep kids engaged and enjoying their time learning. They are typically used by a student and parent (or teacher) together.   Three matching activities for Three Part Cards: 1. Match Picture...
---